The H5 is a diverse fireplace that blends distinct, high-quality materials with the latest radiant and convective heat technology. The H5 caters to those seeking a modern flame appeal and has three unique fuel bed options, including birch logs, traditional logs, and driftwood. The built-in secondary heat exchanger naturally improves convective heat—removing the need for a fan.
The H5's compact design offers a generous viewing area, highlighting the ambient flames and glowing embers.
Specifications
| Model | Max Input | Min Input | Max Output | Energuide |
| --- | --- | --- | --- | --- |
| 1100M | 30,000 | 16,000 | 22,857 | 71.00% |
MORE
INTRODUCING THE H5
The V-Class burner system takes the Valor H5 to new heights with improved fires, realistic log sets, and radiant warmth. Discover more about the H5, including installation, front, and accessory options.
Gallery
We offer a wide variety of customizable options on all of our fireplaces, allowing you to find the perfect installation combination for your home.
HEATSHIFT SYSTEM™
Reduce wall temperatures and improve overall performance with HeatShift. This feature is ideal when adding heat sensitive items or materials directly above the fireplace, such as a wall-mounted TV. Valor HeatShift™
VALOR 10 MOBILE APP
Take full control of your fireplace with intuitive and interactive options—including the ability to program your fireplace, set a countdown timer, or implement child safety locks.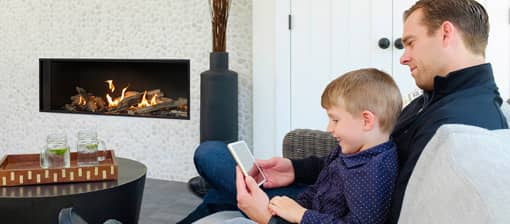 FIREPLACE SAFETY
A Valor Barrier Screen is recommended with all fireplace applications, and is included with your purchase. Close adult supervision is required if there are young children, or at-risk individuals in your home. Fireplace Safety