Home > Fireplace Features > Outdoor Gas Fireplaces
Bring the comfort of a Valor gas fireplace outdoors by adapting any zero-clearance gas fireplace or specified gas fireplace insert with our Outdoor Conversion Kit.
Are Valor Outdoor Fireplaces worth it?
A Valor radiant gas fireplace provides the heat you and your family need to replace the outdoor chill with comfortable, radiant warmth. Other outdoor fireplaces cannot compete when it comes to the performance of our quality-engineered direct vent fireplaces.
Are outdoor fireplaces environmentally friendly?
Burning 100 times cleaner than wood, it is an energy-efficient option for steady, radiant outdoor heat. Create a focal point in your natural living spaces and extend the time that you spend outdoors with a Valor outdoor gas fireplace.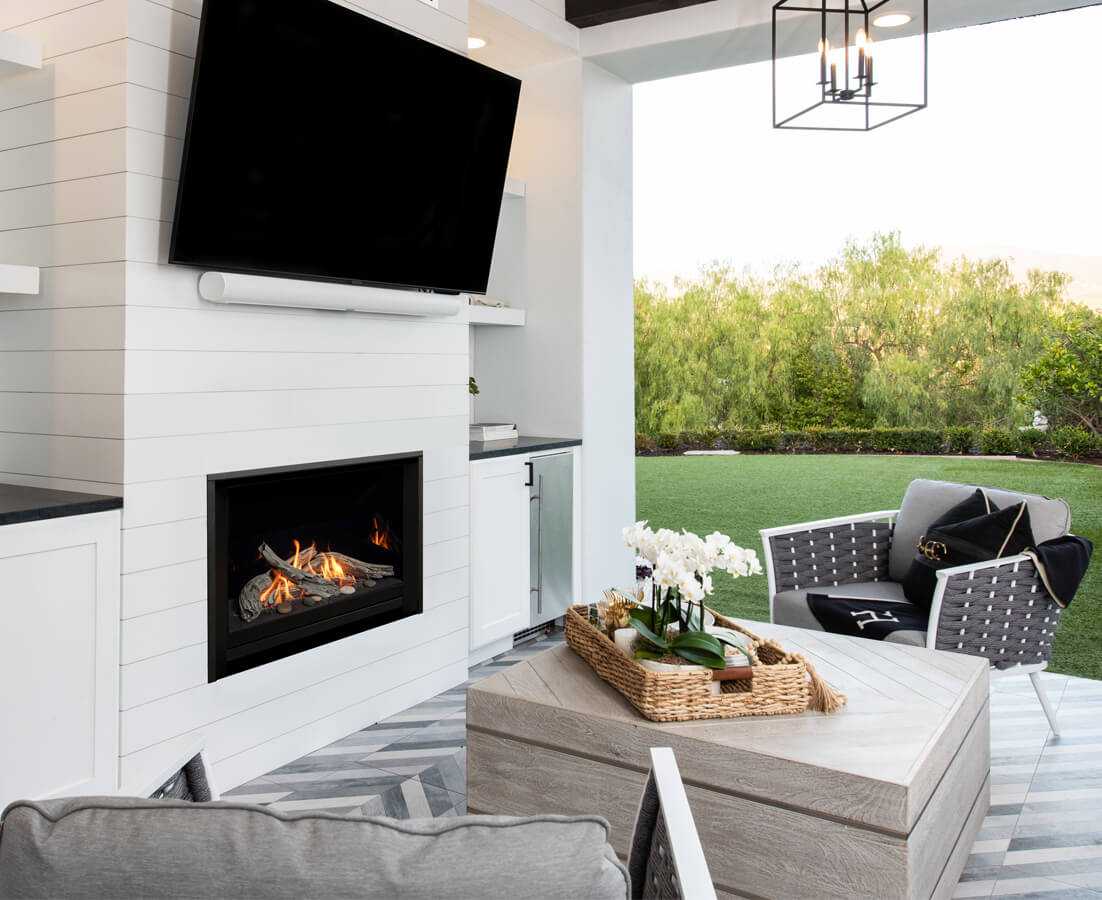 ---
Outdoor Fireplace Gallery
Browse through an inspirational gallery of outdoor Valor gas fireplace installations using the GV60CKO.
THINGS TO CONSIDER
Electrical accessories, such as fans or lighting, cannot be used.
Install in a weatherproof enclosure with the minimum overhang.
A wall switch (RBWSK or 1265WSK) will be required when one isn't already shipped with the unit.
Valor L1 See-Thru (1600) cannot bridge an indoor and an outdoor space.
Cast iron fronts are not recommended for outdoor usage.
Fireplace must always be situated and connected to a fixed piping system.
DECOMMISSION DURING THE OFF-SEASON
We recommend decommissioning your outdoor fireplace during the off-season when it will not be used for an extended period. Decommission your fireplace by removing the batteries from the battery holder and turning the gas shut-off valve to the "off " position. Upon ensuring the fireplace cannot be turned on you can then apply a weather-protective cover over the front of the fireplace to help preserve the finish and further protect the appliance from weather.
Note: Do not operate your outdoor fireplace during cold weather below freezing point (32°F, 0°C).