The L3 is Valor's largest linear gas fireplace. At 66 ¼ inches, the L3 is noticeably wider than the L2 and features the newly introduced birch log and stacked stone liner media options. Due to its highly efficient design, the L3 utilizes standard 6 ⅝" ventilation systems making it a practical option with a simple installation.
The Valor HeatShift System™ is highly recommended for installations where surrounding structural areas must remain at cooler temperatures.
Specifications
| Model | Max Input | Min Input | Max Output | Energuide |
| --- | --- | --- | --- | --- |
| 1800KN | 42,000 | 23,000 | 30,484 | 66.46% |
| 1800KP | 42,000 | 23,000 | 30,484 | 66.46% |
MORE
HEATSHIFT SYSTEM™
Reduce wall temperatures and improve overall performance with HeatShift. This feature is ideal when adding heat sensitive items or materials directly above the fireplace, such as a wall-mounted TV. Valor HeatShift™
Gallery
We offer a wide variety of customizable options on all of our fireplaces, allowing you to find the perfect installation combination for your home.
VALOR 10 MOBILE APP
Take full control of your fireplace with intuitive and interactive options—including the ability to program your fireplace, set a countdown timer, or implement child safety locks.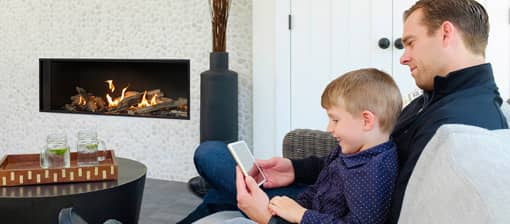 FIREPLACE SAFETY
A Valor Barrier Screen is recommended with all fireplace applications, and is included with your purchase. Close adult supervision is required if there are young children, or at-risk individuals in your home. Fireplace Safety