The H3 offers a slim engine design that is engineered for new construction installs or the growing trend to remove and replace outdated and inefficient wood and gas fireplaces. The relaxing, radiant firebox flames create a beautiful ambiance in any living space.
With three unique fuel beds, seven liners, and four fronts, the H3 can accommodate any design style while providing efficient, radiant warmth.
Specifications
| Model | Max Input | Min Input | Max Output | Energuide |
| --- | --- | --- | --- | --- |
| 1000KN | 25,000 | 12,000 | 19,098 | 72.05% |
| 1000KP | 24,000 | 11,000 | 18,523 | 73.13% |
MORE
INTRODUCING THE H3
Featuring three stunning finishes in vintage iron, black, and our new champagne brass, the H3 fits perfectly into any room design. Watch now to learn more about one of our most popular fireplaces to date.
Gallery
We offer a wide variety of customizable options on all of our fireplaces, allowing you to find the perfect installation combination for your home.
H3 BACKING PLATES
Getting ready to install an H3 in your home? The versatile H3 offers different backing plate styles and options to suit your installation needs.
HEATSHIFT SYSTEM™
Reduce wall temperatures and improve overall performance with HeatShift. This feature is ideal when adding heat sensitive items or materials directly above the fireplace, such as a wall-mounted TV. Valor HeatShift™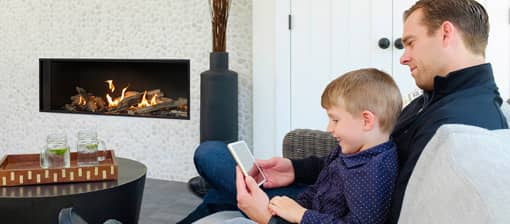 FIREPLACE SAFETY
A Valor Barrier Screen is recommended with all fireplace applications, and is included with your purchase. Close adult supervision is required if there are young children, or at-risk individuals in your home. Fireplace Safety