Home > Gas Fireplaces > Linear Gas Fireplaces
Our lineup of linear gas fireplaces have been upgraded to include the popular V-Class burner, as well as birch logs, beautiful liners, and more. On top of that, Valor linear models will now incorporate the Valor 10 remote, as well as the all-new Valor 10 remote app for mobile devices.
Built on a solid foundation of continuous fireplace innovation, functional design, and installation versatility, the Valor linear series leads the industry with advanced radiant heat technology.
Learn more by reading below or by visiting a local authorized Valor dealer.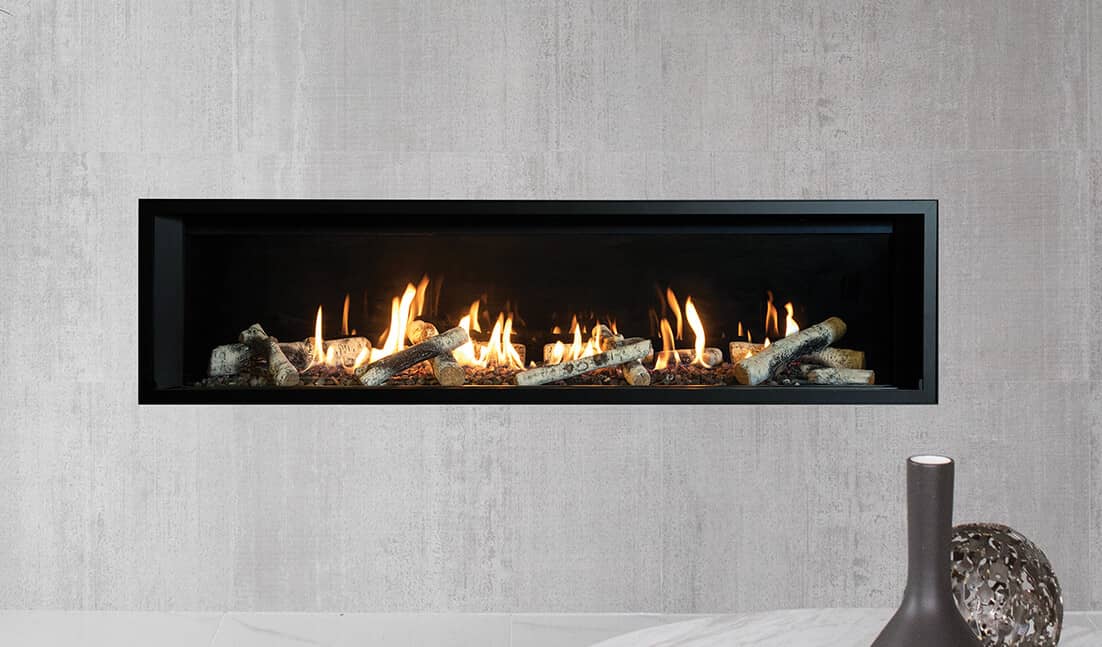 Valor 10 Remote Control
The Valor 10 remote control offers two-way communication and haptic button feedback to provide our best control system yet. New features include the ability to control overhead lighting, childproofing, a countdown timer and improvements to Valor functions such as operation and programmatic modes. Learn more.
Valor 10 Mobile App
Linear fireplaces now offer the ability to control your fireplace from the all-new Valor 10 remote app, available now for mobile devices. Take full control of your fireplace with intuitive and interactive options - including the ability to program your fireplace, set a countdown timer, and integrate child safety locks. Learn more.
HeatShift™
Our larger Zero Clearance fireplaces use Valor's patented HeatShift technology, which transfers convective heat from the fireplace upwards through hidden ducts and directs it back into the room without the need for electricity or a fan. Learn more.
V-Class Burner Technology
New stainless steel V-Class burners are chock full of innovation - the enhanced flames and glowing embers maximize radiate warmth efficiently. The new burner offers a richly hued, radiant glow amidst high-definition logs.
New Birch & Stacked Stone Options
The birch logs offer a relaxing, radiant fire within the firebox that will create a beautiful ambiance in any living space. The stacked stone liner complements the fire to create a vibrant flame picture and looks great whether the unit is on or off.
Improved Burner Performance
Our new stainless steel design has improved combustion and flame appearance across all of our linear models. Propane (LP) engines especially benefit from the new design, providing a much more consistent and vibrant fire.
Outdoor Compatible
Bring the comfort of your Valor gas fireplace outdoors by adapting any zero-clearance gas fireplace with the outdoor conversion kit. Replace the outdoor chill with comfortable, radiant Valor warmth.
Zone Heating
Looking to heat other areas in your home? Our radiant gas fireplaces allows you to take advantage of Zone Heating by distributing heat to other rooms in your home—a great alternative to central heating.