Home > Fireplace Blog > 12 Types Of Gas Fireplaces You Need To Know
When researching types of gas fireplaces for your home, it is important to consider the different fireplace installation types and your needs for heating, aesthetics, and energy consumption. To help you make an informed decision, the following article provides a breakdown of the many gas fireplace options available. These include direct-vent fireplaces, power-vented units, and outdoor installations. These options offer a range of benefits that can improve your home's comfort.
We've compiled an overview of available gas fireplace options and how they benefit homeowners.
Vented Gas Fireplaces
These fireplaces have a venting system that allows proper air circulation and combustion byproduct removal. There are two types of vented gas fireplaces:
1. Direct Vent Gas Fireplaces
A direct vent gas fireplace is a method of venting the fireplace whereby all air for combustion is derived directly from the outside, and all flue gases are discharged directly to the outside. In fact, DV gas fireplaces are sealed to the room and exhaust through a collinear or coaxial pipe. Therefore, no chimney is required when installing a direct vent gas fireplace, meaning it can be installed almost anywhere.
Learn more about gas fireplaces by watching below.
---
2. B-Vent Gas Fireplaces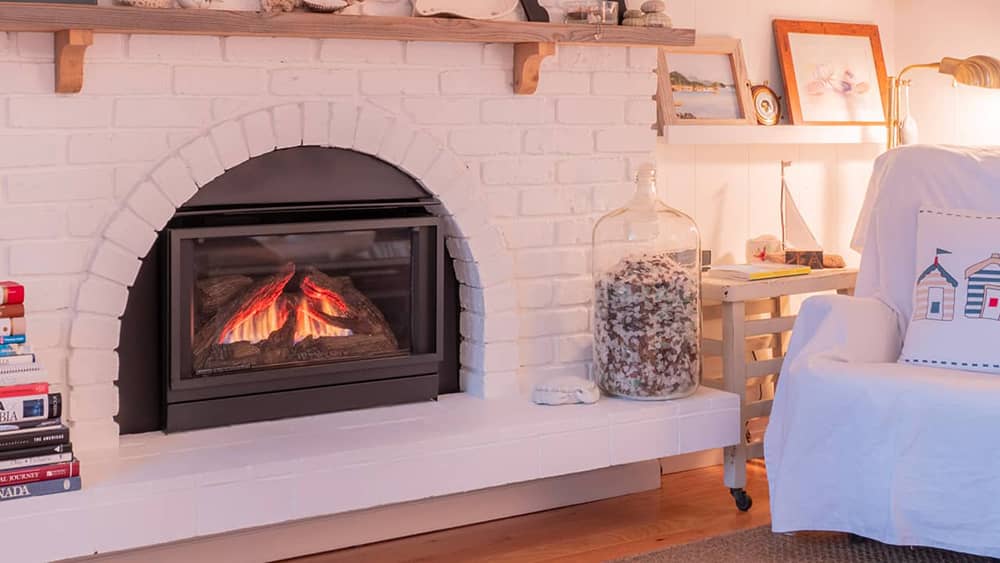 B-Vent gas fireplaces use air from inside your home to fuel combustion and rely on the buoyancy of hot gases to vent exhaust through a dedicated pipe system or chimney. They are often installed similarly to a wood-burning fireplace.
---
3. Ventless Gas Fireplaces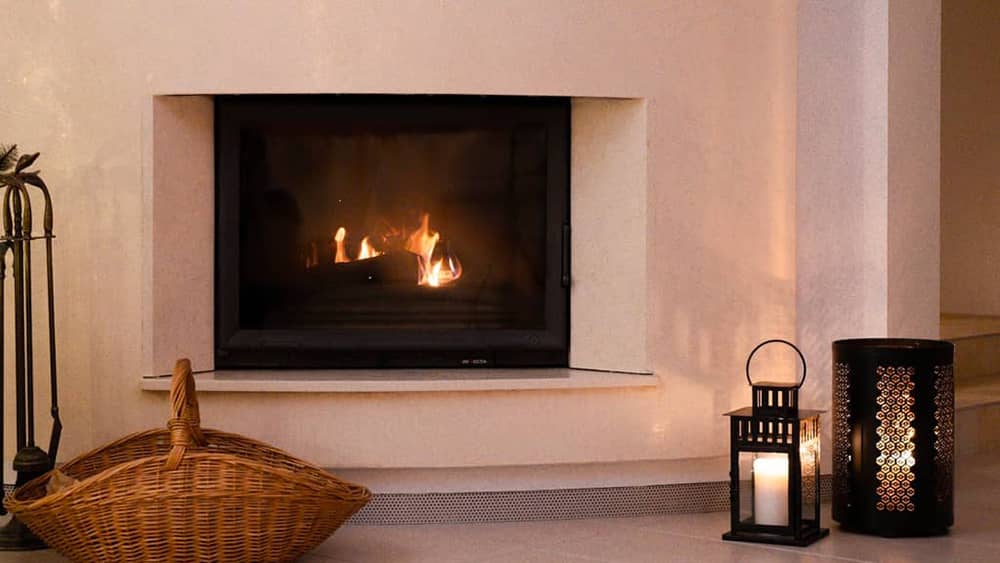 A Ventless or vent-free gas fireplace is the kind of hearth appliance that draws combustion air from inside the home and is designed to burn so efficiently that it eliminates the need for venting. However, it's important to note that ventless gas fireplaces can potentially impact indoor air quality and may require additional ventilation measures.
Please be aware that Indoor ventless gas fireplaces cannot be sold in Canada.
---
4. Gas Fireplace Inserts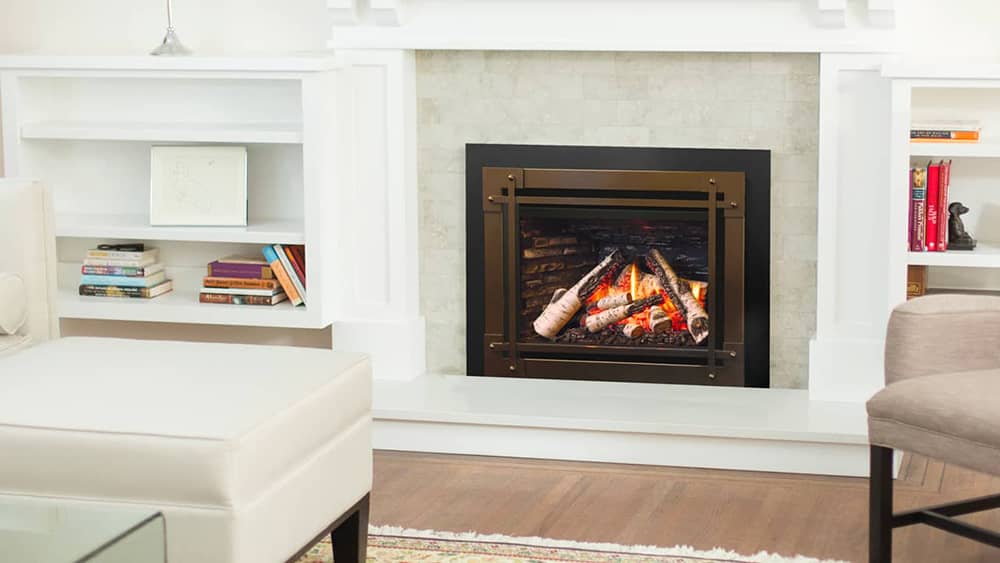 A direct-vent gas fireplace insert is designed to be installed within an existing masonry fireplace opening or a metal factory-built firebox. It offers superior efficiency compared to gas logs or a wood-burning fireplace. Eliminate a traditional fireplace's smoke, messy ashes, and cold draft with a sleek gas fireplace insert.
Learn more about gas fireplace inserts by watching below.
---
5. Freestanding Gas Stoves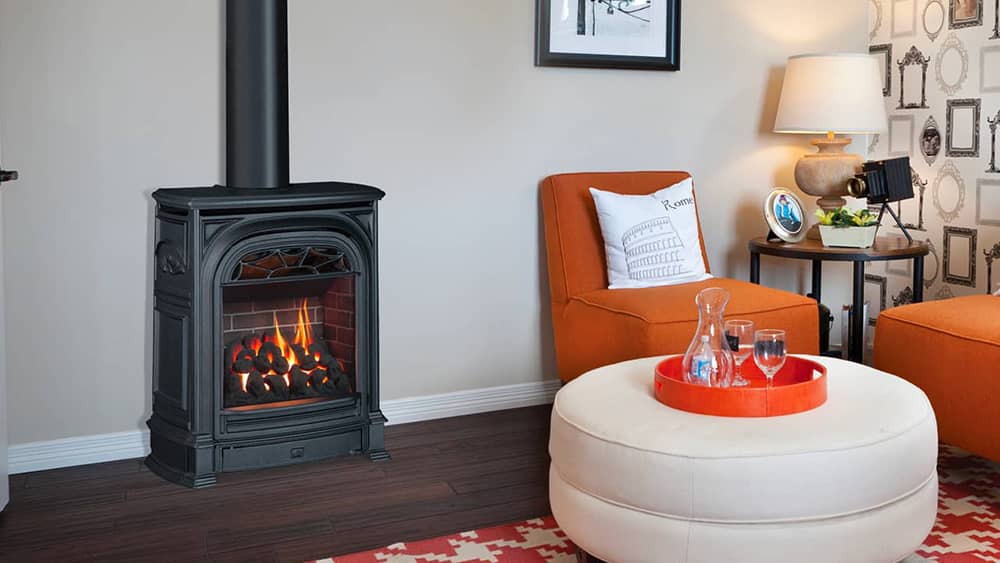 Direct vent freestanding gas stoves are a convenient option as they can be installed just about anywhere. Gas stoves are vented through existing chimneys, through the roof with new venting, or an exterior wall via direct vent installation. They are a fantastic source of heat and are an energy-efficient way to provide supplemental heating.
Learn more about freestanding gas fireplace stoves by watching below.
---
6. Outdoor Gas Fireplaces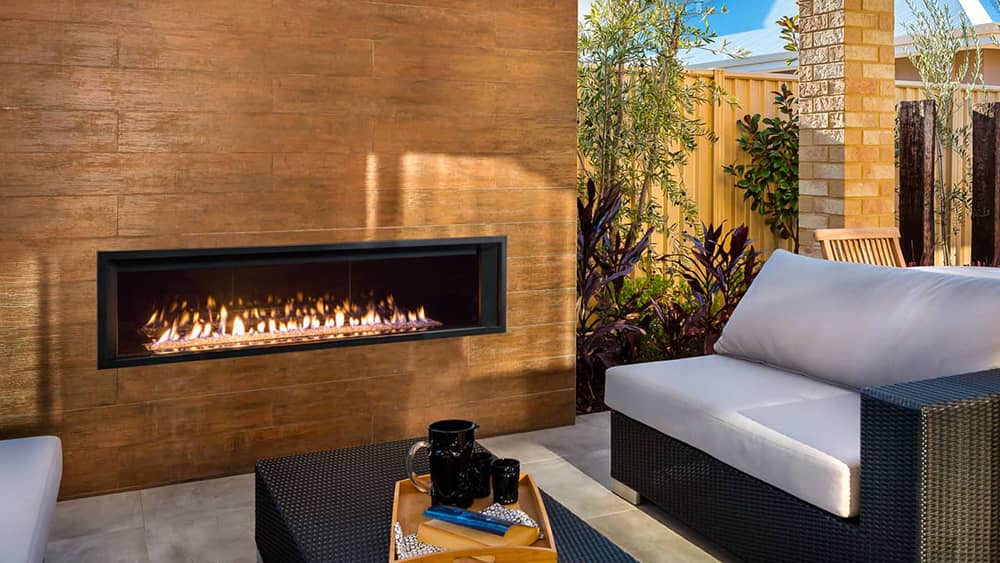 Outdoor gas fireplaces provide a stunning focal point and a way to replace the chill of the outside air with radiant heat. A direct vent outdoor gas fireplace is more energy-efficient than a wood-burning fireplace, burning 100 times cleaner than wood. Extend the time that you spend outdoors with an outdoor gas fireplace.
---
7. Single-Sided Gas Fireplaces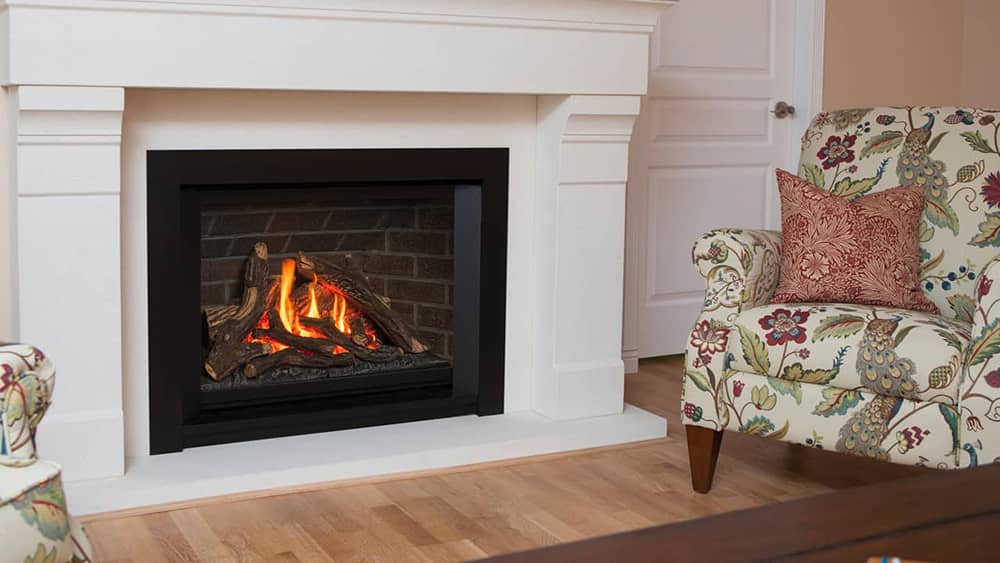 Single-sided gas fireplaces are the most common and offer several installation opportunities. A single-sided gas fireplace has an end-to-end burner that provides a beautiful flame picture. Liners and other interior features often showcase better as they do not have to compete with light sources from the back or side of the engine as they would on a multi-sided fireplace.
---
Multi-Sided Gas Fireplaces
8. Double-Sided Gas Fireplace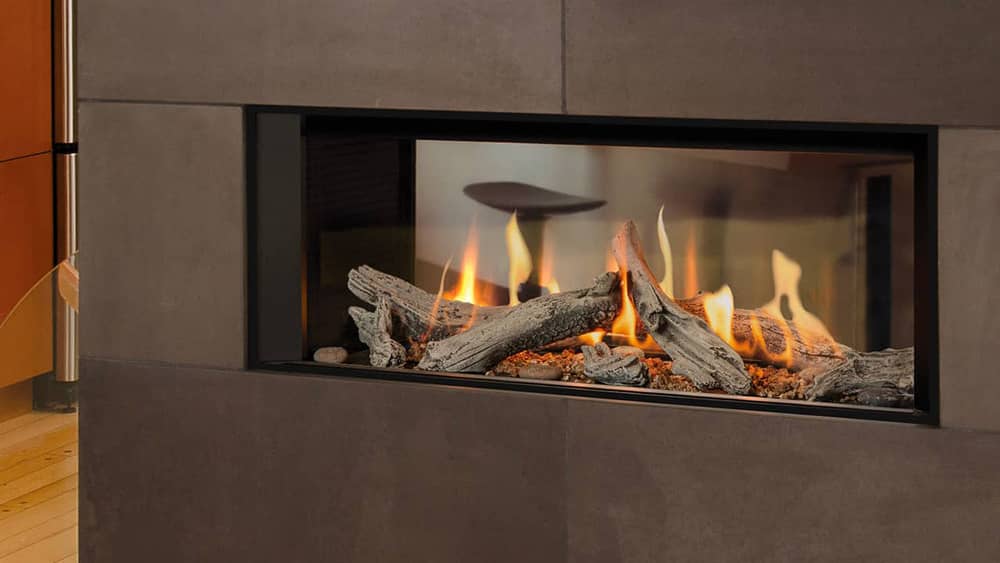 A direct-vent double-sided gas fireplace offers the same benefits as a regular direct-vent gas fireplace but is designed to be viewed from both sides. Logs and other aesthetics are often refined to ensure that customers on both sides can enjoy the look and warmth of the fireplace.
9. Three-Sided Gas Fireplace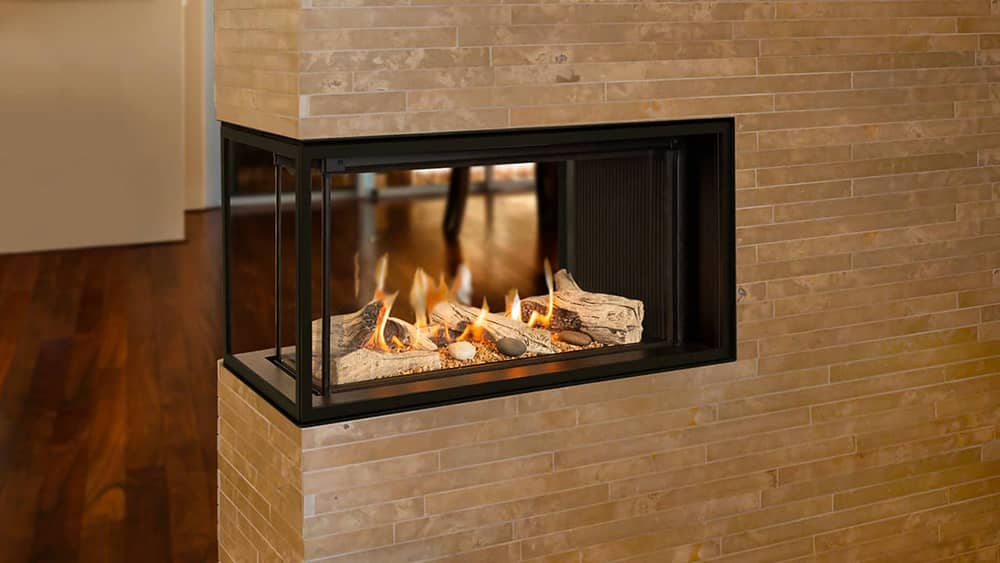 Three-sided or peninsula-style gas fireplaces are usually installed to create two rooms out of one or ease the transition from one room to another. They provide a unique viewing experience with a three-window design while providing energy-efficient heat for any living space.
---
Gas Fireplaces By Style
10. Traditional Gas Fireplaces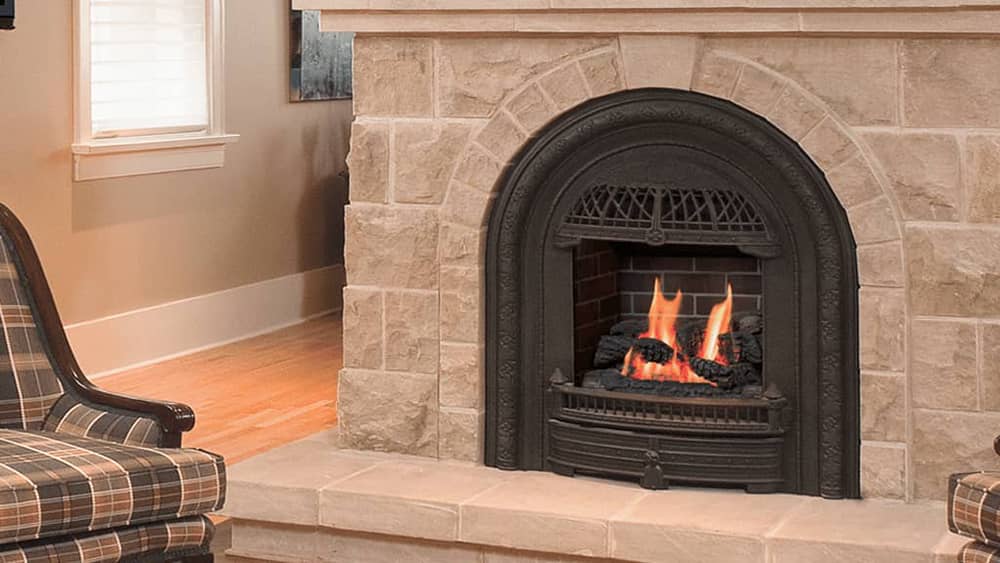 Traditional gas fireplaces provide a more "classic" look than contemporary-styled ones. If you're looking for a fireplace with rustic features, traditional is your best option. Consider the location of the fireplace when choosing the log or font options for maximum visual appeal.
11. Contemporary Gas Fireplaces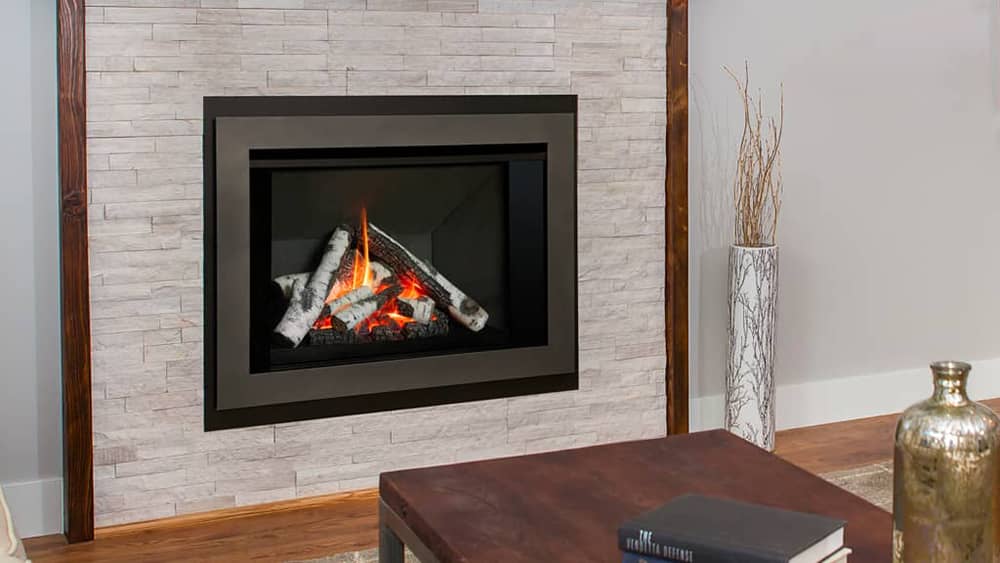 For customers looking for a clean or minimalist design, a contemporary gas fireplace is the way to go. Offering modern design styles and unique aesthetic options for any room style.
12. Linear Gas Fireplaces
A direct-vent linear gas fireplace refers to a wide-format or horizontal-styled gas fireplace. Linear gas fireplaces can also be installed as double-sided or multi-sided applications if there are options for that installation type from the manufacturer.
In conclusion, as shown above, there are many different types of gas fireplaces to consider for your home. Customers need to know their installation needs, venting applications, and style options to make an informed decision. for more information on direct vent gas fireplaces gas fireplace inserts or gas fireplace stoves please visit our website.
Didn't find what you need? Return to our Fireplace Blog to learn more.
---