Design Your Own Valor Fireplace - Now on iOS & Android
Introducing Valor's first ever app: the Valor Fireplace Design Center (or FDC for short)! Available for iOS & Android tablets, the FDC app allows users to easily browse through our entire product line and build your very own Valor fireplace using only the touch of your finger.
Version 2.1 is now available for iOS, while version 1.2 is now available for Android tablets. Discover more about the application & download the app using the links below:
---
Design Center Features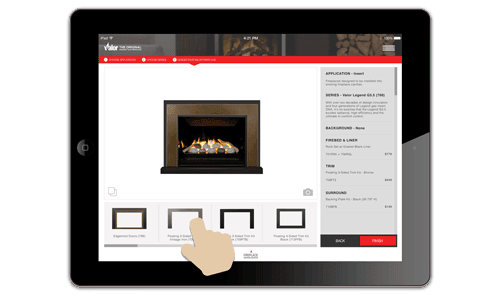 Our app comes with some great new features that will assist you in building and designing your Valor gas fireplace. Read more about the features below:
Choose your fireplace application - Zero Clearance, Insert or Freestanding
Discover the Valor Series associated with each application, choose the best option for your home
Choose between the many unique fuel box combinations - combining the fire box and the liners
Pinch to Zoom - Use your fingertips to resize your Valor fireplace for any living space!
Upload a Photo - Simply press the camera icon, allow device access, and take a photo of your living space to see what your custom Valor will look like
Choose a Photo from your Library - Browse through your photo library and build your Valor fireplace in any environment
Share, print or locate a Valor dealer in your area
---
Future Additions & Iterations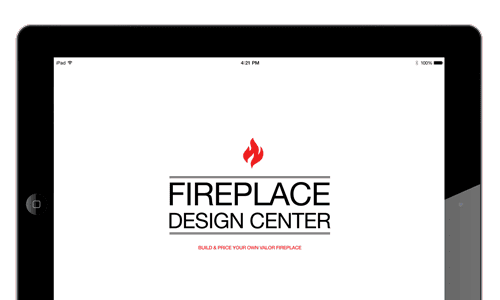 We are always aiming to update our app to ensure it gives our users the best experience possible. Future iterations of the app will be pushed to release upon completion and will usually include a number of fixes or new updates. Below are upcoming additions to the app:
Mobile support for unsupported iPhone & Android devices
"Valor Knowledge" - A feature that will incorporate product knowledge and support to the end user
Additional in-app options & links to other aspects of Valor Online
Additional social & sharing options
Valor Dealer Pricing - Easily price out a fireplace, right there on the spot!
Valor Dealer Login - Access to pricing, CRM information & more
Bug Fixing - as issues pop up, we plan on patching them up as soon as possible
---
App Support
Having issues? Let us know by emailing marketing@valorfireplaces.com. Make sure to include an explanation of the issue, what platform you are using and anything else that might help us solve the issue as soon as possible.
Download for iOS by clicking here | Download for Android by clicking here